25may9:00 am10:00 amCourageous Conversations: Giving & receiving challenging feedback on DEI9:00 am - 10:00 am(GMT-04:00) View in my time Event Organized By: TransforMe Now
Event Details

Complimentary Interactive Workshop: The first in a series of workshops on creating a diverse, inclusive and collaborative environment.

Are you having trouble discussing discriminatory comments or acts in the workplace? Has someone offended you or a colleague?

Join TransforME Now and Conscious Capitalism (consciouscapitalism.org) in the first of a series of workshops on creating diverse, inclusive, conscious and collaborative work environments.

With us, you will learn:
how to skillfully give challenging feedback, to build trust rather than resentment in your team
develop enhanced skills for deep listening when receiving difficult feedback
how to collaboratively come to a resolution and next steps
Why is this important now?
In today's politically charged and polarized landscape, some of our colleagues feel unheard and unseen, while others feel they are walking on eggshells when discussing discrimination and diversity, even to express solidarity or support. This is why it's so important for us to join hands in speaking up in a sensitive manner that helps all parties work together towards a collaborative, inclusive, respectful environment. And, studies show a positive work environment leads to increasing profits and staff retention.
Come join us for this COMPLIMENTARY 1 hour session to get these valuable skills and understand how you can use them now to transform your workplace.
Participation is limited to 40 people – decision makers, human resources managers and leaders in diversity and inclusion within your company/organisation.
Please register and we will send the zoom link with confirmation.
Guidelines for Engagement:
FULL PARTICIPATION: participate in the plenary and groups/triad work
BRING YOUR BEST: share generously, uplift everyone, take care of your needs
EXPAND YOUR EDGE: Get comfortable being uncomfortable, make a new mistake, try it on and keep what works
What our clients are saying:
"More than good, it was very actionable."
"An empowering, energising and practical day to build a better workplace!"
"The energy of the group and facilitators was amazing and created a safe space for addressing issues of racism."
Did you know:
Conscious companies outperform S&P 500 index by fourteen to one over a fifteen year period. (Source: Firms of Endearment 2014 edition by Raj Sisodia)
Firms in the "100 Best Companies to Work For" experience stock market returns averaging around 10.32% while other S&P 500 companies average returns of 3.71% (Source: Great Place to Work Institute)
see www.consciouscapital.org
About TransforME Now:
TransforME Now helps organizations in the UN create more inclusive, collaborative, and thriving workplaces through D&I consulting, leadership & constructive communication training, coaching, and team building.
We believe that all people are agents of change in creating a diverse, respectful, collaborative and inclusive workplace.
We offer:
interactive, tailored workshops (virtual and live) that raise awareness, encourage self-reflection and ownership of behavior;
individual and group coaching/team building;
systems work and more.
See www.transforme-now.com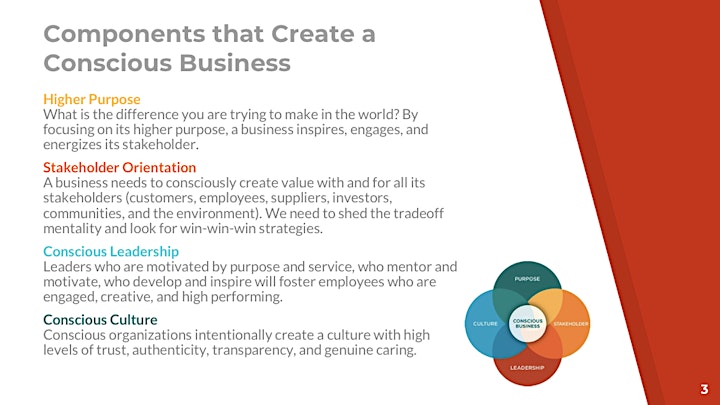 Time

(Tuesday) 9:00 am - 10:00 am(GMT-04:00) View in my time